Perko Commercial LED Side Lights are rugged and adaptable
March 3, 2015 9:23 am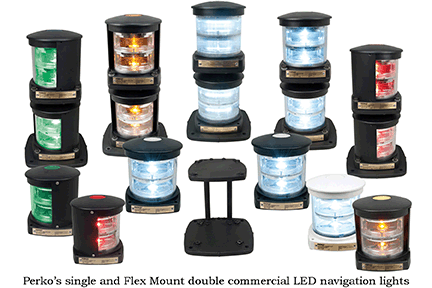 Owners of medium to large commercial vessels need reliable equipment that requires little maintenance, and is easily adaptable in mounting and replacing. Perko's Flex Mount LED navigation lights are ideal for boats 65.6'-164' in length. They are available in either single or double stack combinations that include sidelights, masthead, stern, towing and all-round versions.
Proudly built in the USA of rugged black or white polymer with sealed LED housings, these lights adapt to wide range of installations, are easy to mount and have no user serviceable parts. They fit the same bolt pattern as the Perko Figs. 1364-1374 series. Operating on 12/24 VDC, or 120/240 VAC systems, they come pre-wired with 3' of heavy-duty 16/3-SO cable. Offered with LED bulbs that provide a longer serviceable life, they draw less power and are more durable than traditional incandescent units. With a lens height of 3.5", they feature a color-specific translucent insert on the top to help identify the color of the lens. They are ABYC-certified and USCG-third party certified for 2 to 5 nm.
Perko's new Flex Mount Navigation Light System allows the same lamp to be used for both single and double mount applications. The 1077-1080 series uses a heavy-duty powder-coated aluminium support mounting bracket that allows individual fixtures that are damaged in service to be easily and quickly replaced. This interchangeability results in a significant cost savings in equipment, and less installation and repair time.
The single lights, Figs. 1377-1380 series, retail starting around $700. The double light units, Figs. 1077-1080 series, begin around $1,600.