Special Application Inlet Check Valves - Flapper Valve
[Fig. No. 0635]
Product Description
Valves designed for use with plastic or metal tanks.
Perko's new patent pending "Flapper Valves" fits inside the hose itself.
In-hose ICVs mount inside standard 1-½" or 2" fill hose near the connection to the fuel tank.
Eliminates the need to retool existing doghouse on plastic tanks.
Replaces in-line ICVs, eliminating 4 hose clamps & 2 leak points.
Allows for full 18 GPM flow rates.
Technical Information
Length: 1-1/4"
Fire Test Capable: Yes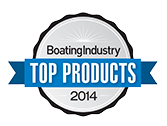 Installation Diagram