Engine flushing is as simple as connecting a garden hose
August 10, 2011 10:06 am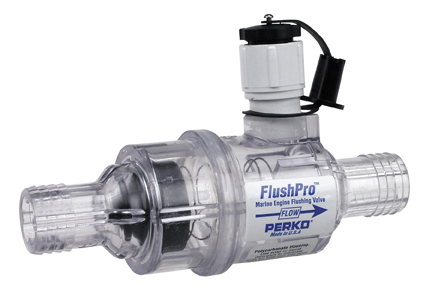 Whether flushing an inboard engine to winterize, for regular maintenance or when moving between bodies of water, the process is now simple. There's no need to crawl under the boat, open the engine hatch, custom-rig connections or turn valves on and off. Perko's convenient FlushPro™ is a convenient solution.
Available for hose sizes 5/8", 1" or 1-1/4", Freshwater flushing is as easy as connecting to a garden hose. A supplied adapter makes winterizing you boat a simple. The unit's transparent body allows visual monitoring of water flow. FlushPro™'s durable check valve system is activated by water pressure from the hose and automatically shuts off hull intake when pressure is applied.
Made of heavy-duty polymer with a stainless steel spring, FlushPro™ is available in two models. The Fig. 0456 is the FlushPro™ valve itself, while the Fig. 0457 FlushPro™ Kit contains the check valve with hose clamps, the Perko water inlet fitting and a 7' length of hose and fittings. The system also works for flushing onboard generators or air conditioning units.
The suggested retail price of FlushPro™ valve from Perko is approximately $110. The kit costs $190.