All-Round Lights mount anywhere, fold flat
September 30, 2011 11:20 am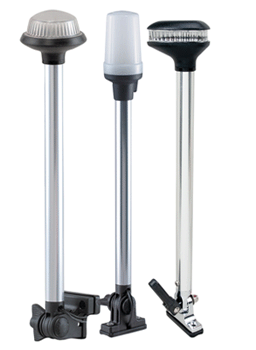 When USCG-required 360 degree lights aren't needed during the day, they're often stowed to save space and eliminate visual obstruction. Rather than removing them, where they can be lost or damaged, Perko's Fold Down White All-Round Lights simply fold out of the way.
The lights are certified for use on sail or power vessels under 65.6'. Perko's designs include options with either a white translucent globe, or reduced-glare versions with a frosted globe or a black plastic top and clear fluted lens.
An array of mounting bases give these convenient folding lights many installation options. Various models fit horizontally or vertically on round or square rails. They can be surface mounted on windshields, T-tops, arches and hard tops. Base materials include a choice of black plastic, or chrome-plated zinc alloy with a quick release lever. Footprint dimensions range from 2" x 1-1/2" to 2-1/4" x 5/8". Plastic adapters are also available for flat or V-type mounts, with a notch for through-base wiring.
The fold-down angle is completely adjustable on these CE Certified lights, which are also USCG approved for 2 nautical miles. Easily installed with a #8 screw, the lights come with a 12V bulb and 13-14" anodized pole. LED options are also available. Perko's Fold Down White All-Round Lights start at less than $40.