Rugged Searchlights are spot on
October 28, 2011 12:43 pm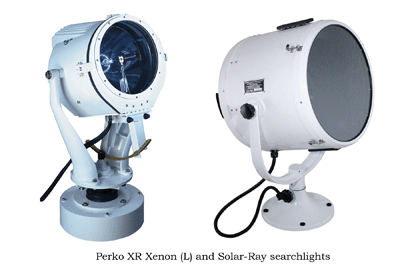 Workboats, emergency vessels and military craft that operate in rough conditions require top-notch searchlights. With superior light output and heavy-duty construction, XR series Xenon Searchlights and Solar-Ray Searchlights from Perko are the top choices of marine professionals.
Xenon-filled lamps in Perko's XR series produce an extremely far-reaching, narrow beam of intensely bright white light. The 15" short arc Xenon XR operates continuously at 500W to produce 35 million candlepower over 3 nautical miles. The 19" XR operates at 1,600W to provide over 100 million candlepower up to 5.5 miles.
With marine-grade aluminum housing, yoke and base, the lights are completely sealed and waterproof. Timkin ball bearings allow for frictionless 380 degree rotation. Integrally cast cooling fans prevent bulb overheating and an optional heater system is available when operating in icy conditions.
Multiple control devices are available. The remote electric panel features a joystick control with a variable speed function for both horizontal and vertical positioning. Other options include a lever/gear and distant electric control.
For customer convenience, all XR series components are available as spare parts. To inexpensively upgrade or repair an older unit in the field, power supplies can be traded in for credit on factory-rebuilt units. Ordering information is in the operator's manual.
The 19" Solar-Ray Searchlight is made to take a beating with a reinforced aluminum body, heavy-duty castings and shock-resistant reflector. For added strength, the ribbed yoke mounting is fixed to an extra-large cast aluminum base. The white Perko-Kote finish resists chipping and scratches and may be painted to match a vessel's color.
A choice of traditional incandescent or brighter quartz-halogen bulbs run on 32V, 120V or 230V. Light output ranges from 500-2,000W, producing 2-5.8 million candlepower. Light is projected up to 2 nautical miles.
Maximum light output is achieved with halo deflectors and parabolic glass mirror reflectors. The housing is vented to prolong bulb life and quick-release mechanisms on the door allows for easy bulb replacement.
A variety of bases and controls are available, including deck, wheel, distant electric and lever/gear. The base has floating stops for 400 degree rotation.
Perko has been a leading innovator of marine lights, hardware and other accessories for more than a century. Its extensive line of searchlights include removable handheld models and fixed units capable of being set for continuous back-and-forth sweep.