PERKO provides valuable emissions training
December 20, 2011 10:16 am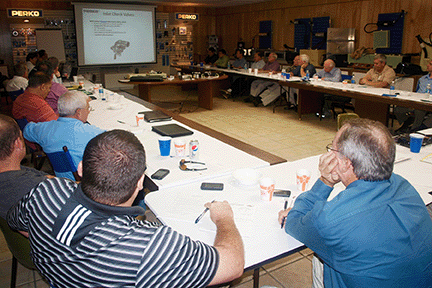 Builders rely on Perko to provide technically detailed information on emission systems and regulations. To keep its sales reps up to speed, Perko recently conducted the latest of its series of training sessions.
The 3-day seminar focused on Perko's complete line of Diurnal Emissions Control Systems designed to meet EPA and ABYC standards. Topics included updates on new product development, system design, product application, application options and regulatory compliance. Representatives from Perko partners Delphi and Raval provided information about the design, use and installation of their carbon canisters and fuel tank valves.
The classes took place in Perko's +1,000 sq. ft. training facility at its Miami manufacturing plant. Hands-on instruction was aided by examples of nearly a dozen different tank/canister/fuel system configurations, samples of fuel fills, P-traps, vents, ullage tanks, canisters, vapor/fuel separators and fuel system valves.
For over 100 years, Perko has manufactured superior marine lights, hardware and other accessories. More information on Perko's Diurnal Emissions Control Systems, emissions regulations, requirements and solutions can be found at www.perkofuelsystems.com.