Handheld searchlight hits the spot
January 3, 2012 8:33 am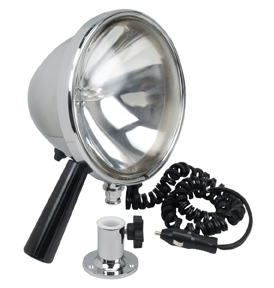 Among indispensable safety items for boating at night is a searchlight. Whether used for emergencies or simply to find dropped items, the light should be powerful yet easy to control. Perko offers its Fig. 0440 Removable Hand Held Deck Control Searchlight to quickly shed light when, and where, it's needed.
Various models feature 4-1/2" or 7" sealed beam bulbs powered through 12V or 32V cigarette lighter-style plugs. The head and base are constructed from corrosion-resistant, chrome-plated brass. A watertight deck connection helps keep the light securely in place for stationary use. Added mobility for handheld operation comes from a push-button switch in the lamp's head and an 8' coiled cord.
This versatile searchlight is easy to pick up quickly to help locate a person or object in the water, scan the shoreline or even signal others. The powerful beam penetrates fog, smoke, rain and haze.
Perko's extensive line of searchlights range from handheld models such as the Fig. 0440 to commercial-use fixed units up to 19 inches with either incandescent and xenon bulbs. Suggested retail prices of the CE-approved 0440 Removable Hand Held Deck Control Searchlight start around $260.