How to choose a replacement pole light
May 11, 2012 2:41 pm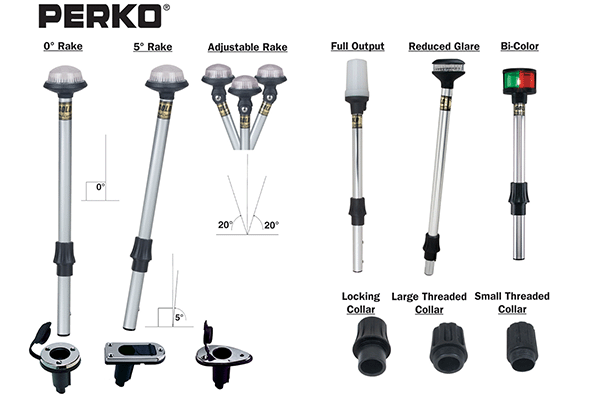 Removable pole lights offer the convenience of out-of-the-way storage while complying with navigation lighting rules. With a wide array of models available, factors to consider when replacing a pole light include globe style, rake angle, height and mounting choices.
Pole light globes are available in three basic types. White all-around, full-output globes provide 360 degrees cockpit illumination, with a choice of traditional and modern styles. Reduced-glare, white all-around lights help preserve night vision by shielding part of the globe. Bi-color pole lights are installed on the bow instead of a fixed light, with some versions incorporating a white utility light.
Rake, or the angle, of a light is determined by the pole, base and base location angles. This is particularly important for reduced-glare lights, to ensure correct light output. The most common rake angles are 0 degrees, 5 degrees and 16 degrees, though some pole lights are fully adjustable to various positions.
The overall height of a pole light needs to be considered, as navigation rules require the center of the white bulb filament be at least 1m, or approximately 40 inches, above the filament of red/green lights onboard. This height is measured from the deck to the center of the light, and can be different from the length of the pole. Generally, the installed vertical height will be between 2-4 inches less than the pole length, but must be visible by others over onboard obstructions. Folding pole lights are a convenient answer for situations where a tall vertical height is needed, yet there isn't much storage space onboard.
Mounting bases for pole lights vary in design, so replacement poles need to be examined for proper orientation and electrical contacts. Many manufacturers utilize one or two screws along the pole to help position the light properly in the base, so a new pole light must match the existing base. Likewise, most models utilize only two contact pins, but bi-color models with a utility light require three pins. If changing a pole light style, proper electrical contacts must be maintained.
Locking or threaded collars are incorporated into many pole light models, to assure they are held securely in the base. When replacing a pole light, if a collar is needed, it must match that of the base.
Perko bi-color pole lights are CE approved and certified to meet either USCG 1 nm regulations for boats under 12m long or 2 nm for boats under 20m. The company's white all-around and masthead pole lights carry CE approval and are certified to meet either USCG 2 nm or 3 nm regulations for boats under 20m long.
Perko is the only manufacturer of marine-grade navigation lights that offers gold-plated contacts for superior corrosion-resistance and ultra-long service life. When not in use, the lights are easily stowed with Perko's 0477 pole clips that can be mounted out of the way on the side of the boat. Detailed installation instructions and technical drawings are available at www.perko.com.