Builders meet regulations with new deflector tank vents
August 30, 2012 9:34 am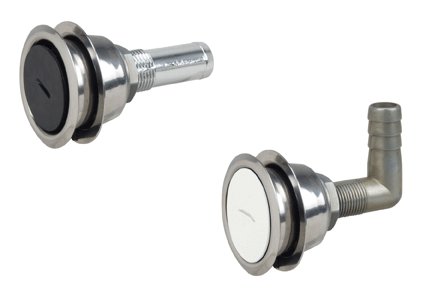 New diurnal emissions regulations state that no water can enter a fuel system's carbon canisters. To help boatbuilders safely comply, Perko has devised two new deflector tank vents. These through-hull units are similar to conventional vents, but incorporate a deflector plate, which makes water infringement less likely. They are intended for applications where certified P-traps are not needed to protect canisters from water.
The new deflector vents are available in straight or 90° models with a black or white polymer splash guard. Both feature 316 stainless steel escutcheons. A removable 30 mesh stainless steel wire screen flame arrestor is included for use with fuel applications. Both the angled and straight versions fit a 5/8" hose with a maximum hull thickness of 5/8".
Perko products are proudly made in the U.S., backed by the company's decades-long experience in the manufacture of fuel system components. More information about Perko's complete array of canisters, fills, vents, valves and related components is available at www.perkofuelsystems.com.