Multi-purpose strainer simplifies fresh water flushing
September 10, 2012 9:48 am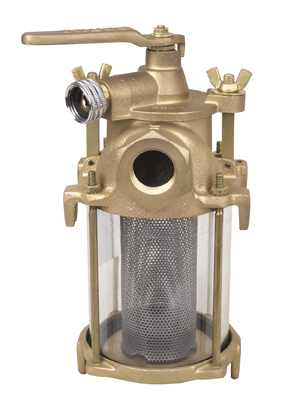 Engine or generator flushing on a larger boat or yacht is accomplished in minutes with Perko's versatile Flushing Strainer. It makes the job as simple as attaching a garden hose to the strainer's hose inlet fitting. This multi-purpose product simplifies cleaning, maintenance and season-end winterizing tasks, and even serves as an emergency bilge pump.
The Flushing Strainer is quickly installed, with mounting lugs cast into both sides for universal mounting. Its strainer basket is constructed of 316 stainless steel to minimize electrolysis, and is easily removed for cleaning. A drain plug in the bottom casting accommodates removal of sediment or end-of-season draining.
A turn of the handle switches the unit between normal and flush mode. A low-torque ball valve ensures smooth action, while an internal cam seals the inlet not being used.
Available in 1/2", 3/4", 1" or 1-1/4" pipe sizes, the strainer is constructed of cast bronze and stabilized with four tie rods. Standard Perko replacement parts are available that include baskets, gaskets, cylinders, nuts and tie rods. Perko has manufactured high-quality, American-made products for over 100 years. Suggested retail prices of the Flushing Strainer start at approximately $400.