New air and fuel separator provides internal venting
October 2, 2012 9:34 am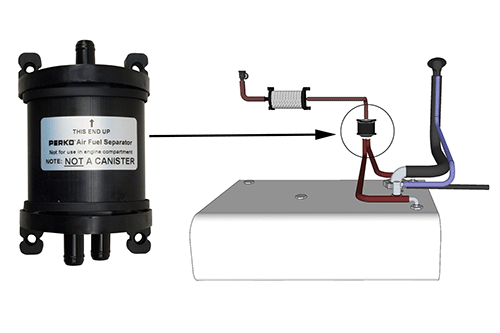 New EPA regulations regarding diurnal emissions, coupled with USCG regulations for access to tank-mounted fittings, can create compliance challenges for builders. This is especially true for users of plastic fuel tanks. Perko's new air/fuel separator offers builders a convenient, time-saving solution with this in-line venting device.
When Perko's air/fuel separator is properly located in the vent lines to the canister, there is no need to install vent valves on the tank. Manufacturers can now vent fuel tanks internally, eliminating the need for access to the far ends of longer tanks.
A small vent valve inside the air/fuel separator provides the needed airflow restriction to aid in automatic pump shutoff. This valve also provides extra protection against sloshing, has a rollover shutoff feature, and helps prevent liquid fuel from reaching the canister.
The new air/fuel separator has an overall height of less than 6", mounts using the same floating brackets used on canisters and attaches to 5/8" vent lines using standard hose clamps. A factory installed heat shield allows for engine room installation.
To help builders comply with EPA diurnal emissions regulations, Perko offers an extensive array of carbon canisters, air/fuel separators, vents, fills, caps and combination fill vents. More information is available at www.perkofuelsystems.com.