Clear back utility light illuminates two spaces at once
October 26, 2012 9:26 am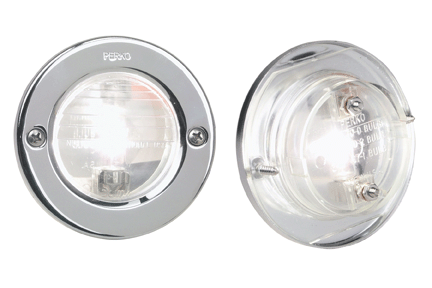 There's no need to install two separate lighting fixtures with the Perko clear back utility light. For the cost of operating one lamp, boaters can illuminate two areas while conserving precious mounting space.
Perko's Fig. 1149 clear back utility or courtesy light shines both inside and outside the mounting location. This makes it ideal for brightening small, hard-to-light areas such as within center consoles, storage lockers, cabinets and electronics boxes. When properly installed on a vertical surface, the lamp directs 80% of its illumination downward, making for low glare operation.
Expertly finished in either chrome-plated brass or stainless steel, the light features a backing crafted from sturdy clear polymer. At only 3" in diameter and 1" in depth, it takes up little space. Installation requires cutting a 2-1/8" diameter hole, and the light mounts with #8 screws.
The Perko Fig. 1149 utility light comes equipped with a 12V bulb, but with a bulb change is adaptable to 24V or 32V. It retails for around $65. Spare parts available include the socket assembly, mounting flange and lens with gasket. Perko offers a five-year warranty on its products. The company has proudly manufactured all its marine lights and hardware in the U.S. for over 100 years.