Rugged searchlight offers simple lever operation
January 2, 2013 10:19 am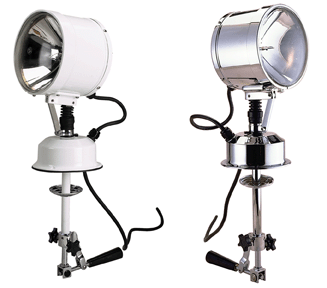 Commercial craft demand a tough, powerful and reliable searchlight. Perko's Fig. 0314 Pilot House Control Searchlight stands up to the most challenging marine conditions. It features wide horizontal and vertical movement to provide illumination for a wide variety of night work or emergency uses.
Available in either chrome plated or white Perko-Kote powder coated brass, this durable searchlight is corrosion resistant and splashproof. The single lever handle permits control of the light from the pilot house, providing up to 380° horizontal movement and 70° vertical movement.
Dependability is enhanced with sealed beam units and tin-plated electrical contacts and wiring. Perko's 7" head searchlight has an overall length of 24" ; the 8" has a length of 26". Both versions are available in 12, 24 or 32 models. Depending on the bulb choice, which can range from 100 to 600 watts, the light projects approximately 5/8 to 3/4 mile.
The Perko Fig. 0314 Pilot House Control Searchlight can be mounted on vessels with ceiling thicknesses of up to 5". The company stocks replacement bulbs for all models. Like every Perko marine lighting product, the searchlight is made in the USA and covered by a five-year warranty. Suggested retail prices start around $1,400.