Marine Canisters include new size, increased capacities
January 30, 2013 9:34 am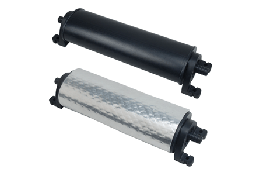 Increased fuel tank capacity ratings on Delphi marine canisters, available from Perko, now enable boatbuilders to use smaller models to meet their needs. A new 3/4 liter canister also expands Perko,s range of emission products.
Delphi canisters have been recertified to increase their capacities approximately 20%. For example, the 1/2 liter and 1 liter canisters, which were for trailerable boat tank capacities of 45 and 90 gallons respectively, are now certified for 62 and 124 gallons. The largest 4 liter Delphi canister is now certified for a trailerable boat tank capacity of 496 gallons and a non-trailerable boat tank capacity of 992 gallons.
The new 3/4 liter canister, now in production, is certified for trailerable boat tanks with capacities up to 93 gallons and for non-trailerable boat tanks up to 186 gallons. As with all Delphi marine canisters, two hose connection sizes are available: 5/8" x 5/8" and 5/8" x 5/16". It is also available with or without a heat shield. Heat shields on all Delphi canisters are factory installed and delivered ready to mount into a boat.
Specifically designed for marine applications, all Delphi canisters from Perko use specially formulated carbon and a patented floating bracket design. These snap-on brackets allow for quick, easy installation while protecting the canister from hull-induced torque. Information about Perko fuel and emissions products is at www.perkofuelsystems.com.