In-Pipe Inlet Check Valve eliminates wellback and leak points
March 27, 2013 9:54 am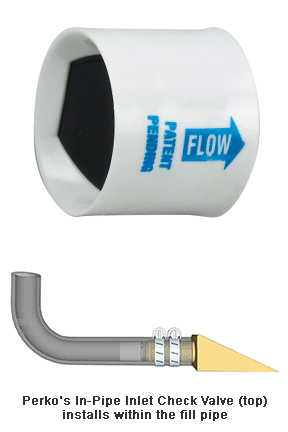 With the EPA fuel systems now mandated on new boats, builders often install an Inlet Check Valve (ICV) to prevent fuel leakage out the fill after refueling, known as "wellback." Tank-mounted ICVs are expensive to buy. Inline ICVs are expensive to install and create additional leak points. Perko's new in-pipe ICV offers an ideal solution.
This inexpensive Perko valve is installed inside the standard 1-1/2" fill pipe itself, eliminating the two potential leak points inherent with inline ICVs. It reduces costs as hose clamps aren't needed, nor is the extra installation labor associated with other ICVs.
The valve also easily retrofits into existing non-EPA fuel systems that are prone to fuel leakage or wellback problems, finally offering owners of pre-2010 boats a solution. Owners simply disconnect the fill pipe from the tank, insert the valve within it, reconnect the fill pipe and test for leaks.
Perko's new patent-pending in-pipe ICV handles flow rates up to 18 gallons/minute and can be installed on systems using either plastic or aluminum fuel tanks. The valve (P/N 0635000) retails for under $35.
Perko has manufactured high-quality, American-made marine hardware, lights and fuel system components for more than 100 years. Information on Perko fuel and emissions products is available at www.perkofuelsystems.com.