Adjustable universal replacement pole lights fit any base
April 26, 2013 9:38 am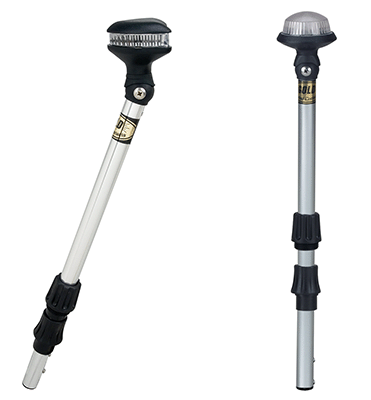 Boaters looking for adjustable head universal replacement pole lights for vessels under 20 meters can find all their needs met with a Perko product. Perko's Delta, Omega and Stealth series come with multiple collars and screw positions to fit the most popular light bases on the market.
Lights in all three series adjust plus or minus 20° in either direction. Various models even match most custom bent pole applications. Users can choose from LED or incandescent versions USCG rated for up to 2 nm.
The ultimate replacement pole lamp, Perko's Figure 1470 Delta series is universal in type, fit and angle. It offers features of virtually every other replacement pole lamp, all in one package. Included are two globes, one with reduced glare to help preserve night vision; the other a fully clear traditional lamp that illuminates a cockpit while still meeting navigation requirements. Both styles easily screw on and off with no special tools. The Delta series comes in 6" incremental lengths from 24-60".
Perko's versatile Figure 1343 LED Omega series offers universal fit and angle with a replacement white all-round light with reduced-glare globe. Omega series models feature contemporary styling with a polymer top. The 3/4" anodized pole offers stow-away, plug-in convenience. Designed with gold plated contacts and sealed from the environment, the vibration-resistant 12V LED provides low power drain, improved corrosion resistance and durability. The Omega series is available in a 36 or 48" straight pole length or a 48 or 60" fold-in-half pole.
With the Figure 1347 Stealth series, boaters can find a reduced-glare globe that offers adjustability for proper horizontal alignment, regardless of the base configuration. The black polymer top and clear fluted lens protect a bright, reliable 12V LED. Like Perko's Delta and Omega series, the Stealth series lights include two collars and two key slot screw positions, allowing them to fit practically any base. Stealth series poles range from 24-60" long.
Perko proudly manufactures all its marine lights and hardware in the US, covering products with a five-year warranty. Suggested retail prices for Perko adjustable head universal replacement pole lights start at $45.