Carbon canisters come with pre-installed heat shield
May 1, 2013 9:40 am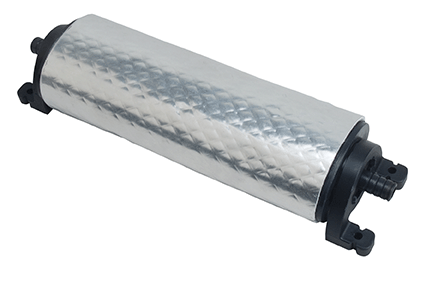 Carbon canisters play an essential role in filtering hydrocarbons from the fumes vented during thermal expansion and/or refueling of marine tanks. Not content to adapt a canister designed for automotive use, Perko partnered with Delphi to create a canister from scratch, specifically designed for marine applications. Perko factory-furnishes its HS canisters with a permanent heat shield blanket, making for quick and simple engine compartment installation.
Delivered ready to mount in a boat, Delphi HS canisters come in 7 sizes ranging from 0.5-4 L. They attach with four stainless steel fasteners, just like regular Delphi marine models. The heat-shielded canisters pass ABYC-required fire tests right from the box. Boatbuilders need add no extra insulation to meet EPA certification.
All Delphi canisters from Perko contain specially formulated marine-grade activated carbon that provides less moisture adsorption than automotive carbon. The units easily snap into place with patented floating brackets that protect the canister body from stress. Perko offers two hose connection sizes, 5/8" x 5/8" and 5/8" x 5/16", on all its marine canisters. The Florida-based company offers emission products in a wide range of sizes to meet a variety of boatbuilding needs, with more information available at www.perkofuelsystems.com.