Rail mount folding bases provide convenience and versatility
May 17, 2013 9:13 am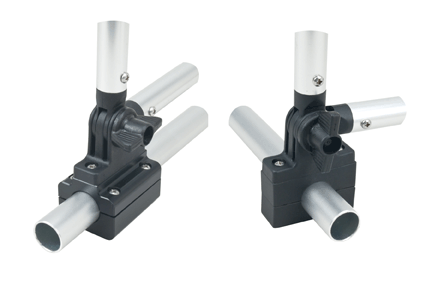 A navigation light mounting base that folds adds versatility and helps simplify the operation and care of a boat. Perko's rail mount bases offer full fold-down convenience and fit 3/4" diameter horizontal rails, with other sizes available through special order.
Perko's Figure 1628 perpendicular rail mount base attaches in a transverse direction to the railing, so that any attached light folds at a right angle as well. For applications that require a lateral fold, Perko offers the Figure 1627 axial or in-line rail mount base. This base mounts in the same direction as the railing, so that any attached light folds parallel to it.
Both Perko rail mount bases are constructed of durable black polymer and include necessary clamping/mounting screws for installation. Suggested retail prices start around $54.
The Florida-based Perko company proudly manufactures its line of lighting and hardware products in the USA. Known for high quality standards, Perko backs everything it makes with a five-year warranty.