European style LED nav lights illuminate with elegance
June 17, 2013 9:18 am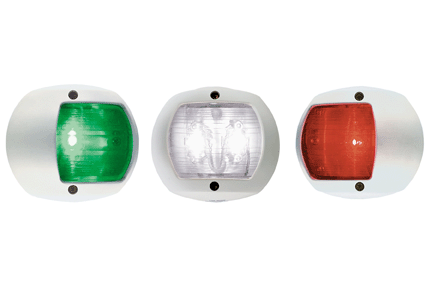 Boaters needn't sacrifice style for function when choosing navigation lights. The European Style LED lights from Perko have it all-low power consumption, high quality construction and continental design flair in a variety of finishes.
These vertical mount lights will add panache to any craft with their sleek, modern lines. CE-approved and certified for use on sail or power driven vessels under 20m(65.6') long, Perko's Figure 0170 European Style LED Navigation Lights come in 12V or 24V options. Bright, reliable and long-lasting like all Perko LED products, they draw less than half the amount of energy required by standard lights while producing far less heat.
Boat owners have a choice of red or green side lights, white stern or masthead lights and yellow towing light models. The white masthead light is USCG certified to 3 nm; the rest to 2 nm. Finish options include lamps of all black or all white plastic, or a chrome-plated brass top and black plastic base.
The lamps measure 3-5/8" H x 4-1/8" W x 2-1/2" D overall. All Perko products are made in the US and covered by a five-year warranty. Retail prices for Perko European Style LED Navigation Lights start around $200.