Adjustable LED Light Banishes Boat Interior Darkness
July 26, 2013 9:24 am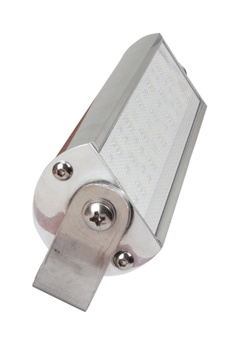 The addition of bright LED lighting to a boat's interior makes life easier and more comfortable for all aboard. With its superb efficiency and low operating temperature, the Perko Swivel Berth Light makes an ideal choice for illumination of any marine cabin.
Made to last, the Perko Fig. 0609 Swivel Berth Light features stainless steel mounting brackets and an aluminum and stainless steel housing construction. An included template helps simplify mounting.
Measuring only 1-1/2" H x 6-3/8" W x 1-1/2" D, the 12V berth light offers big light in a small package. The diffused cover delivers eye-friendly illumination over a large area. In addition, the housing swivels, allowing the user to adjust light direction to suit a variety of activities, including reading. The light itself comes in white or white and red LED options.
A charter member of the American Boat and Yacht Council, Perko makes all its products in the USA. This privately-owned, fourth-generation company remains committed to manufacturing goods of the highest quality and providing outstanding customer service.