Battery Switches offer simple power control
August 7, 2013 9:53 am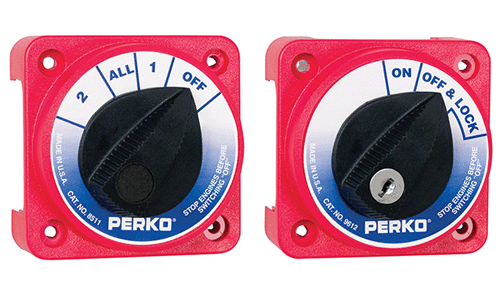 Maintaining a reliable method of managing overall use of electrical power on board is an essential part of safety on the water. Compact Perko battery switches have a higher capacity rating than the company's previous 8500 series models, and are for use with 12, 24 and 32 V systems. They offer superior features and made-in-the-US quality boaters can rely on.
Included in the series are the Compact Medium Duty Main Battery Disconnect Switch Fig. 9611 and its key-locking counterpart, Fig. 9612. These Perko switches help preserve battery power by allowing users to connect or disconnect electrical devices from the system. They also permit a quick shutdown of all electrical devices in the event of emergency.
The Compact Medium Duty Battery Selector Switch Fig. 8511 and Key Lock version Fig. 8512, perform all the tasks of the disconnect switches. They give users the ability to select between two or more batteries for engine starting, running accessories or recharging. These switches also enable use of one or more batteries with one or more engines. If needed, nearly depleted batteries can be placed in parallel for emergency starts. A unique Perko-designed "make before break" operation permits switching between all functions while the engines are running.
All Perko battery switches feature smooth rotary action and a 90° easy-to-identify position rotation. UL listed and CE approved, they are ignition protected for use in gasoline powered boats.
Designed for surface mounting, their compact size and smaller footprint facilitate installation in even the tightest spots. Each comes with four removable side skirt panels to simplify cable access and mounting.
For added strength and durability, all Perko battery switch models are made from fiber-reinforced polycarbonate, and feature a large easy-turn black knob. They measure 4-3/4" H x 4-3/4" W x 1-7/8" D. The Main Battery Disconnect and Selector Switches have retail prices starting around $50 for the non-key lock models and $65 for those with key locks.