New LED product creates safer night-time environment
September 20, 2013 12:29 pm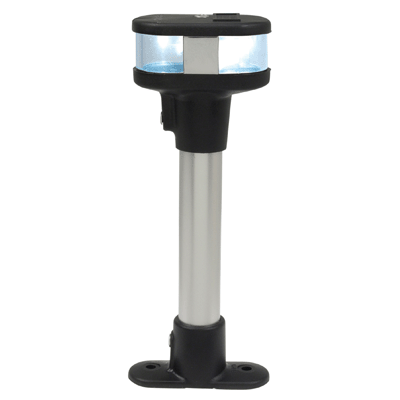 Boaters can safely extend their time on the water into the evening hours and also follow US Coast Guard regulations by equipping their craft with a masthead/all round light. The new LED combination masthead light from Perko delivers bright, energy-efficient illumination while ensuring compliance with regulations.
USCG-certified, Perko's Fig. 1696 LED combination masthead light offers far-reaching visibility, up to 3 nm, appropriate for vessels under 20 m (65.6'). Its low power consumption helps preserve precious battery power.
Available in black polymer, the light's vertical height is 6", with an overall height of 6-1/2". Rugged, durable construction ensures its resistance to marine conditions for long use. The light housing top, measuring 3-5/16" x 1-5/16", connects to a fixed-mount base with a 3/4" diameter anodized aluminum tube. The base itself measures 3-9/16" x 1".
On new installations, the design of this light allows OEMs to replace the complex switch used for years to activate the all-round mode without simultaneously activating the other running lights with a simple switch. A module is included with retail packaged versions that makes the lights compatible with the old style OEM switch, avoiding the need to rewire the navigation light system.
A privately owned, fifth-generation business, Perko applies attention to detail and fine craftsmanship to everything it makes, from design through manufacturing and assembly. The company offers over 1,000 items, including navigation lights, battery switches, searchlights and a variety of hardware.