New emissions components solve tank access issues
October 2, 2013 9:40 am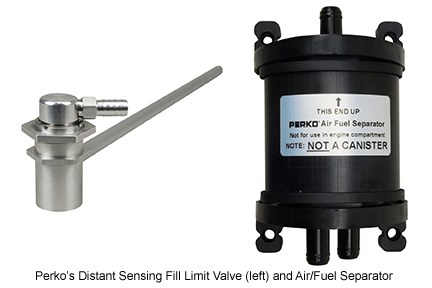 Compliance with current EPA regulations regarding diurnal emissions can create fuel tank access problems. Perko's new emission components tackle this by eliminating the need to access fittings located in hard-to-reach areas of fuel tanks.
The new Perko air/fuel separator allows boatbuilders to run vent lines directly inside the tank, then connect them to fittings mounted in more convenient spots. In many cases, an air/fuel separator system also offers a lower installed cost than a vent valve system.
Another Perko product, the distant sensing fill limit valve, establishes ullage from the center of the tank, the ideal location for the most accurate operation. The use of an internal vent line allows for placement of the actual valve in a more convenient location.
OEMs can install either the air/fuel separator or the distant sensing fill limit valve, or both, depending on any particular fuel tank's configuration. Perko offers distant sensing fill limit valves for both plastic and aluminum fuel tanks.
For 80 years, Perko has manufactured innovative and high-quality fuel system components. With the introduction of its new emission components, the company continues to expand its line to help boatbuilders properly and safely comply with regulations.