New Perko Packaging Reflects Made in America Pride
January 13, 2014 9:38 am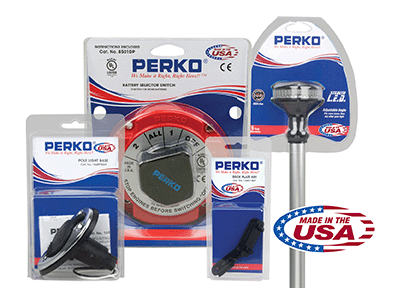 It's a rare American company today that creates its products largely in-house, from product design through manufacturing and assembly. In salute to its made-in-America claim, marine lighting and hardware specialist Perko, Inc. has introduced a new patriotic retail package design for all its products.
With a colorful red, white and blue backdrop, all Perko product packages now come emblazoned with a large Made in the USA label. Borrowing a stars and stripes theme, the new logo provides customers with instant visual recognition of the exceptional quality of Perko's American-made products.
"This packaging redesign reflects our company's commitment to US-based manufacturing," said George Bellwoar, VP of sales and marketing for Perko. "Our goal is to deliver the very best quality in marine lighting, hardware and accessories." The majority of all Perko's retail products carry a five-year manufacturer's warranty.
Perko has been manufacturing high-quality, American-made products for over 100 years. It offers a broad array of marine hardware, lighting and fuel system components. It is a fifth generation family owned corporation.