New water strainer eases cleaning chores
February 12, 2014 9:25 am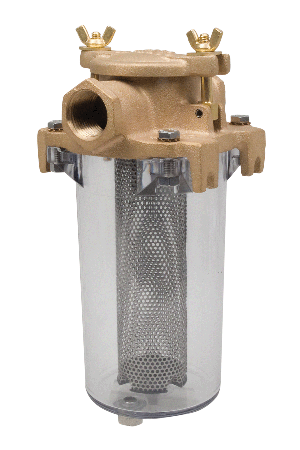 A boat's water strainer is an essential underwater hardware component. Boaters seeking a replacement will find the Fig. 0443 Lightweight Intake Water Strainer from Perko to be a versatile and economical choice.
Made of cast bronze with a clear polymer body, 0443 is lighter in weight than any other Perko strainer. This strainer is designed for easy installation, with mounting lugs cast into both sides for universal fitting.
Hinged lugs on the cast bronze cover enable easy removal and cleaning of the strainer basket. The transparent body makes it easy to see when cleaning is needed. A drain plug in the bottom casing facilitates removal of sediment and seasonal draining.
The 316 stainless steel basket minimizes electrolysis. With screen holes measuring 0.079" in diameter, the Lightweight Intake Water Strainer provides a 47% open area, among the industry's highest for cylindrical strainer baskets.
Fig. 0433 is UL marine listed, and shares many replacement parts with other Perko strainers. Like all high quality Perko products, the strainer is designed, manufactured and assembled in the US.
Perko's 0443 Lightweight Intake Water Strainer has retail prices around $225 for the smallest size and up to $600 for the largest size.