Air Fuel Separator Furnishes In-Line Ventilation
March 3, 2014 9:32 am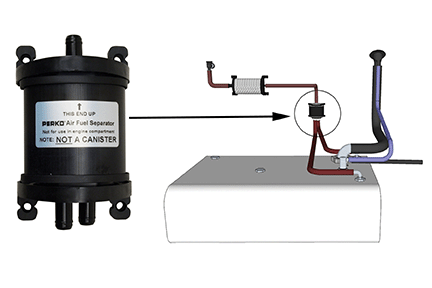 Boatbuilders can face compliance challenges when installing fuel tanks, particularly with units made of plastic. The air/fuel separator from Perko allows manufacturers to satisfy EPA diurnal emissions requirements, while also meeting USCG regulations regarding access to tank-mounted fittings. It also creates a simpler, more convenient setup.
Installation of this convenient Perko component makes placement of vent valves on the tank unnecessary. When properly located in the vent lines to the canister, this in-line venting device eliminates any need to access the far ends of longer tanks.
With a vent valve mounted inside, the air/fuel separator provides rollover protection and over-pressure relief, while delivering the airflow restriction required for automatic pump shutoff. It also safeguards against sloshing and helps keep liquid fuel from reaching the canister.
The air/fuel separator measures 6-3/4" L x 4-1/3" W, and projects 3-1/2". It mounts with the same floating brackets used on canisters, and connects to 5/8" vent lines with standard hose clamps. Units fitted with factory-installed heat shields are available for engine room installation.
Perko sets high standards for its USA-made products. In addition to air-fuel separators, the company also offers carbon canisters, vents, fills, caps and combination fill vents to help builders comply with regulations.