Surface Mount Trim Tab Lights Provide LED Brilliance
April 29, 2014 9:33 am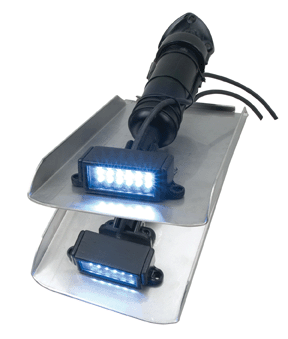 Ideal for evening fishing, diving or swimming, underwater trim tab lights enhance vessel ambiance while they illuminate dark waters. The Fig. 0178 LED Surface Mount Trim Tab Underwater Light from Perko delivers nighttime brilliance in a dependable unit that's easy to install.
This versatile light is equipped with removable brackets for mounting flexibility. It can be positioned horizontally or vertically on the trim tab. With trim tab mounting, boaters can adjust the beam as the tab moves up and down. Users can also surface mount the light on the transom, with wiring directly behind the light. A mounting riser for use with lipped trim tabs is included in dealer packages.
Like all Perko LED products, this 12 V, 7.0 W light lasts longer, creates less heat and uses only a fraction of the energy of a standard fixture. The white light model produces 75 lumens, while the blue light option produces 27 lumens. Its 15° LED beam is lab-rated for a life of 50,000 hours. Housed in tough, non-corrosive molded black polymer, the light measures 4-1/8" x 1-5/16" x 1-1/4", with a bolt size of 8/32 P.H. An 8' 18 AWG marine-grade electrical cable is included.
The Fig. 0178 LED Surface Mount Trim Tab Underwater Light retails for around $200 in a single pack; the double pack retails for about $400. A 10-piece OEM bulk package is also available.