Increased Marine Canister Capacities Offers New Options
May 13, 2014 9:27 am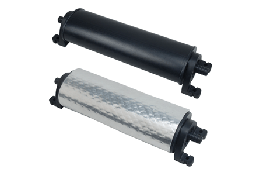 With newly increased fuel tank capacity ratings, Delphi marine canisters from Perko offer more flexibility than ever before. Delphi canister recertification has increased capacities by approximately 20%, allowing boatbuilders to use smaller, space-saving models.
All Delphi canisters have been recertified to optimize their capacity. The 1/2 liter and 1 liter canisters, which previously handled trailerable boat tank capacities of 45 and 90 gallons respectively, are now certified for 62 and 124 gallons. Delphi's 4-liter canister, its largest, has been certified for a trailerable boat tank capacity of 496 gallons and non-trailerable boat tank capacity of 992 gallons.
Perko now also offers the Delphi 3/4 liter canister. This new product is certified for trailerable boat tanks with capacities of up to 93 gallons and for non-trailerable boat tanks up to 186 gallons.
Available with or without a heat shield, every Delphi marine canister comes with a choice of 5/8" x 5/8" or 5/8" x 5/16" connection. Heat shields are factory installed and delivered, ready for mounting into a boat.
Specifically tailored to meet boat builder needs, Delphi canisters from Perko employ marine-grade activated carbon, ensuring low moisture adsorption. Their patented floating brackets facilitate installation, and accommodate movement without placing stress on the canister body.