Self-Adjusting Slam Latch Keeps Hatches Secure
June 19, 2014 9:37 am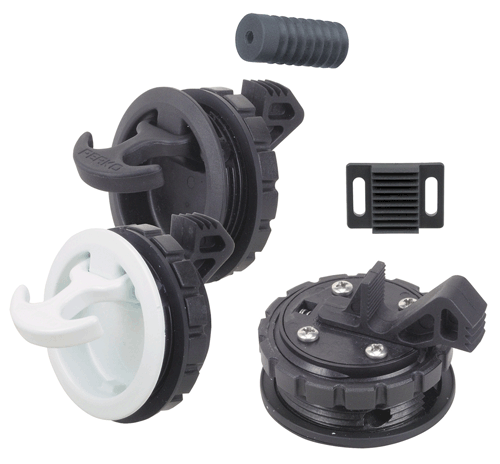 A properly closed latch can make all the difference when it comes to maintaining a safe environment for expensive equipment. With the Fig. 0675 self-adjusting slam latch from Perko, boaters can rest assured that cargo stored in hatches remains safe from water damage.
Only Perko offers a slam latch with a unique leak-proof slide action design that keeps hatch interiors dry. A patented, self-adjusting, ratcheting cam bar/strike permits installations even with slight component misalignment, ensuring quick and complete closure every time.
Available in either black or white polymer, the latch is intended for 1/8" to 3/4"-thick mounting surfaces. The overall face plate depth is 2-3/8". It easily installs in a 2" diameter hole and is secured with a single mounting nut.
Manufactured in the US since 1907, Perko products are renowned for high quality and fine craftsmanship. The Fig. 0675 self-adjusting slam latch, which includes two strikes to accommodate a variety of mounting configurations, retails for less than $45. OEM buyers can also purchase the slam latch in a package of 25. Those interested can consult Perko for specific bulk package pricing.