Barrel Bolt Gives Tough, Attractive Touch to Interiors
September 12, 2014 9:20 am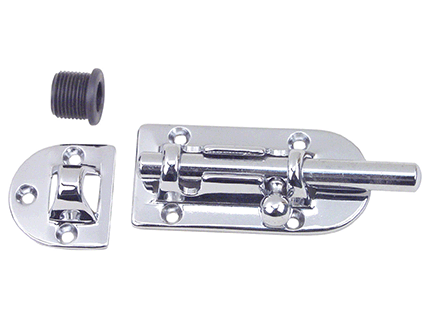 Beauty and durability can both be hidden in the details. The Fig. 0947 Barrel Bolt from Perko is attractive yet built for the harsh marine environment. This cabinet fastening is designed for years of service.
Tough and dependable, the Fig. 0947 Barrel Bolt is great for securing doors, cabinets and lockers, helping create a safer, more convenient on-board experience. It features a chrome-plated bronze body, 3/8" diameter bolt, two keeper mounting options, and a friction pad to eliminate rattle and ensure smooth operation. The retail package includes a standard mount keeper or high-impact black nylon bulkhead keeper that provide solutions to a variety of mounting options. The bulkhead keeper easily installs in a 5/8" diameter hole.
The Fig. 0947 Barrel Bolt comes in three lengths, 3-7/16", 4-5/16" and 5-1/4". Each fastening has a width of 1-7/16" and attaches with a #6 screw. The Fig. 0947 Barrel Bolt from Perko retails for around $40.
Perko offers a variety of cabinet hardware, hinges, locks and latches to suit a variety of applications and needs. An all-American company with a tradition of quality, the company has served the marine industry for over a century.