Perko Unveils Website and Catalog Overhaul
October 27, 2014 9:22 am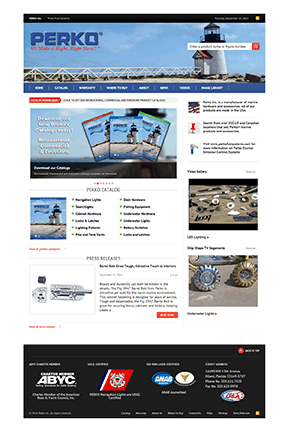 For over 100 years, the marine industry has relied on Perko to set the standard for lighting, hardware, switches and fuel system products, all proudly made in the USA. Now, to better serve its customers' needs, it has launched a redesign of its popular website, Perko.com, and print catalogs.
Fully mobilized for PC, tablet and phone, users will find Perko.com intuitive to navigate and lightning-fast, due to its use of state-of-the-art technology. Grouped topically, content within each section is sortable by popularity, figure number, or alphabetically, and displays thumbnails of each product, allowing users to quickly find the perfect item. The website now includes a news section and features an improved search engine.
Visitors to Perko.com will appreciate the new video section that offers both Perko videos as well as episodes of John Greviskis' Ship Shape TV. Educational and entertaining, users will find helpful and instructional tips that they can easily apply to their own boats.
Perko's website is not the only communication channel updated by the venerable company. Its printed catalog, which has been produced since 1916, has been divided into three separate, focused publications: Recreational and Pleasure Boats, Commercial Products, and Emissions Related Products and Deck Fills. Each of the catalogs is available for free download in PDF format on the website.