Shower Door Latch Sets add a Touch of Elegance
December 3, 2014 9:28 am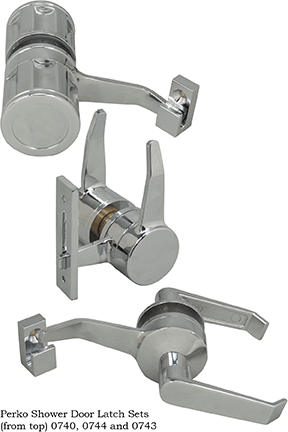 One of the luxurious appointments commonly found aboard the finest yachts is a glass-enclosed shower. Whether part of a new build or simply the updating of an older boat, Perko's new shower door latch sets add a touch of elegance to any marine décor.
Constructed of gleaming chrome-plated brass and zinc-alloy components, these stunning latch sets are offered in three configurations. Round knobs with grip detents (fig. 0740), taper-bodied cylinders with "L"-shaped horizontal handles (fig. 0743) and round-bodied cylinders with "L"-shaped vertical handles (fig. 0744) provide for a wide range of applications. All operate from either side of the door and won't spin freely, due to an internal ball point indexing mechanism. The latches' stylish good looks disguise their robust, solid construction.
Each latch set is available in various combinations of 135° or 180° cam bar and "J" hook to provide closure to another piece of glass, or slotted strike to close to a wall. They require only a 7/8" hole and accommodate glass thicknesses between 5/16" and 1/2".
Proudly made in the USA, Perko's shower door latch sets have a starting price of around $230.