Angled Rod Holders add value, functionality
December 22, 2014 9:25 am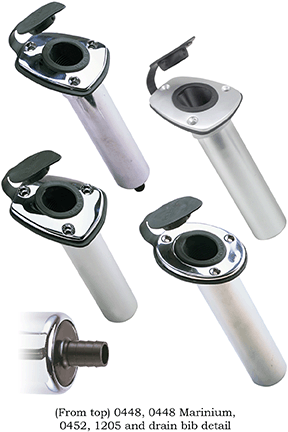 Fishermen know that the more lines they have in the water, the greater their odds of a strike. With Perko's full line of angled rod holders, all proudly made in the USA, anglers can improve their chances of getting a bite, while adding functionality, utility and value to their vessel.
Selecting the perfect rod holder is simple, even with Perko's extensive array of models. The primary difference is the material used. For salt or brackish water, boaters can choose either chrome-plated bronze (Fig. 0448) or stainless steel (Fig. 0452). Freshwater fishermen can pick a less expensive chrome-plated zinc alloy, Fig. 1205. Marinium is a fourth option available in model Fig. 0448. This proprietary, corrosion-resistant alloy has the highest strength to weight ratio of any common marine metal, yet weighs only one-third of these other materials.
Standard features of all Perko angled rod holders are flange gaskets with integral flip-up caps that keep out spray and rainwater, and soft black liners to protect valuable equipment. The company offers a variety of tube diameters and lengths to fit most applications. Optional drain bibs allow water to exit the holder through a small 5/8" hose and run into a bilge. Replacement caps, gaskets and tube liners are available.
The holders themselves are angled to 65° and can be mounted for the rod to face directly aft or angled outward any degree; 45° is considered the maximum for best performance. These variables can be used in combination to take full advantage of each pole's power, action and location, and to keep lines from tangling with each other.
Commonly used for storage, Perko also offers flush vertical mount and external side mount rod holders. The company's clamp-on models offer the convenience and flexibility of relocating the unit to a rail, tower or wherever it's needed.
Perko's newly revised website features a Ship Shape TV segment that guides boaters in choosing the perfect rod holder for their needs at http://bit.ly/1EpxCZs. Perko's angled rod holders start at around $65.