LED Cockpit light small in size, big in utility
January 7, 2015 9:21 am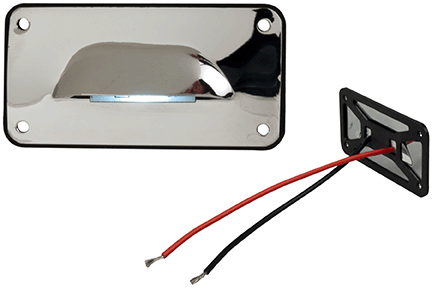 When operating a vessel at night, it's important for boaters to maintain the ability to see what's underfoot, without losing their night vision with a harsh, bright glare. Perko's new louvered cockpit LED utility light is perfect for illuminating deck areas and passageways, enhancing a boat's safety and overall ambience.
Ideal for any place mid-level lighting is needed-cockpit or cabin-the fixture's small size and sculpted louver make it look like a vent. Built tough and made to perform, the unit is manufactured to withstand both the weather and the occasional hard bump.
Constructed of durable stainless steel with a mirror-like finish, the light has a black polymer base for mounting on any flat surface. It features soft, rounded corners for an elegant appearance and to prevent snagging.
The 12 volt fixture has an extremely low amperage draw and uses less than half the energy of a standard unit. It comes with 6" pigtail wire leads for simple connection.
Proudly made in the USA, Perko's Fig. 1033 louvered cockpit LED utility light is 3-1/8" L x 1-5/8" H and requires four #8 screws for easy installation. The unit retails for under $25.